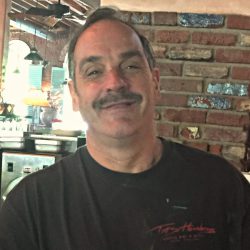 Position and Wage
John works for Tres Hombres Long Bar & Grill in Chico, California as a maintenance worker. Tres Hombres is a lunch and dinner restaurant housed in the oldest existing structure in downtown Chico, completed in 1861 by Chico's founder, John Bidwell. Bidwell made the first major overland trek to California by wagon train and became an American pioneer and agriculturist instrumental in the settlement of California. The restaurant houses a "Long Bar" that was transported from the Red Garter Saloon in Virginia City, Nevada.
In this historical setting, working three hours per day, six days per week, John ensures the restaurant is clean, performs maintenance, and makes deliveries. John earns a competitive wage and has worked, as of April 1, 2016, for sixteen years at Tres Hombres. John relayed he enjoys working at the restaurant because he "can get things done."
Acquiring Skills
John worked on a lawn crew and in a wood shop — both through a work rehabilitation training center. John made the decision to "get a regular job." His experience includes work at a laundromat, and at Red Lobster. John also washed dishes at the Dogtown Inn, another historical site, during his high school years.
Employment Application and Interviewing
John wanted to make sure that he would like the job at Tres Hombres. "I went and checked it out first. I went to the restaurant to see if I would like it. I asked the bar manager if there was an opening. Then I applied. I gave them my name and phone number." John received job coaching and support over the years that helped to prepare him. He did not interview for this job but had "practiced what to say over and over again." "I used to do them myself at home and it was what I learned over the years." John learned of the job — and was hired for the job — without assistance. "I talked to my worker about this. He said I looked like I was in shock. I got a regular job on my own! I asked him if he knew anyone else who did this without help!" John relayed: "I know how to get help if I need it, but I did it myself." John was proactive, prepared, and determined in reaching his goal.
Soft Skills
John described himself as someone who "always gets to work early." "I come to work every day." John is reliable, with a long employment tenure — "I have worked at my job 16 years.
Getting to Work
To ensure that he arrives at work on time, John will walk to work, or ride the bus. He also has a driver's license if needed.
Doing the Job / Supports and Services
John works independently at Tres Hombres. In the past when he worked at the Red Lobster, John worked with a job coach — "I am on my own at Tres Hombres."
Challenges
To resolve a challenge he may experience at work, John reaches out to the owner of the restaurant to address the challenge.
Long-Term Goals
"I would like to retire," John relayed, with his long-term goal as going on "vacation and doing my own thing." Yet, John is also considering taking classes to improve his reading skills, and may pursue classes to become a massage therapist.