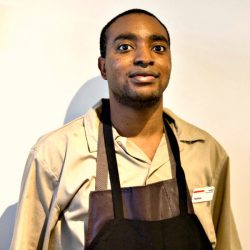 Position and Wage
As a utility worker at Sodexo, Matthew receives a competitive wage that is above minimum wage. Matthew has worked 35 hours per week at Sodexo for three years as of July 2016. Matthew most enjoys working in the kitchen at Sodexo and is responsible for ensuring the cleanliness and delivery to the kitchen of dishes, and pots and pans. Matthew also ensures that the trash is monitored and placed into the trash compactor.
Acquiring Skills
"I knew I might like this job" relayed Matthew "because I like working in the kitchen and cooking at home. I like preparing food to help with the family dinner. At home, one of my jobs is to help with the dishwasher and putting away pots." "My only prior experience working in a kitchen was at a Boy Scouts summer camp. During the summer of 2009, I cooked breakfast for the Cub Scouts. At dinner, I served food in the cafeteria to the Cub Scouts."
Employment Application and Interviewing
Matthew received a "lead" that this job was available from his job developer, and then completed a paper application at a Sodexo job fair. "It was at the Marriott Hotel in El Segundo, California." After his job developer assisted him in completing the application, Matthew interviewed the same day. Having practiced a mock interview at a hardware store previously with his job developer, Matthew did not find he needed to participate in a mock interview for this position.
Soft Skills
When asked about soft skills that employers say are necessary for success, Matthew responded: "Yes, I have soft skills. I had learned them from both my parents and my Grandma. They taught me to be helpful and courteous. I also learned the motto — "Do a Good Turn Daily" — from the Boy Scouts. That means always be helpful and courteous. I think my greatest soft skill is being a team player."
Getting to Work
Matthew understands the importance of arriving to work on time. Matthew takes both the "Metro" bus and the "Green Line" train to work five days per week.
Doing the Job / Supports and Services
Matthew has a job coach who "has helped me for two years. At the beginning, she came daily. Then, after some time, I got more experience with my job skills and she only came once a week."
Challenges
When Matthew recognized he needed assistance with a challenge, he reached out for help to be successful. "At first I had a hard time putting muscle into scrubbing the pots and pans. My job coach helped me with my challenges during my start of my job."
Long-Term Goals
Matthew has long-term goals and is taking specific steps to reach those goals. "I am interested in working as a cook in the kitchen. I would like to start by doing 'food prep.' I used to do 'food prep' for the juice bar before they changed that area to salad bar. I would also like to work at the coffee bar. My long-term goal is to learn about many different positions in the kitchen. I am taking classes at West Los Angeles College in Hospitality. I plan to earn a certificate in Event Planning. I may also take some cooking classes so I can have some formal training in food preparation."