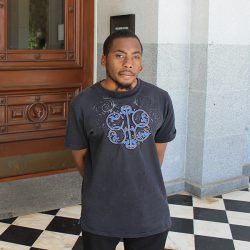 Position and Wage
Merrell works as a legislative assistant intern at the California State Capitol, located in Sacramento. Merrell assists the office with mail, shreds documents, organizes the newspapers, and delivers important letters to other offices in the Capitol. Merrell has worked at the Capitol since May 2013, and relayed what he likes most about the environment is "the people in the office are friendly and helpful." Not only does Merrell work at the Legislature every Friday for five hours, he also works as a temporary custodian at Sacramento City College four days a week, and as a dishwasher at Round Table restaurant two days per week washing dishes — which on buffet night — is for over 150 people in the restaurant! Merrell earns a competitive wage at each of these three positions.
Acquiring Skills
Merrell had previous work experience. At a summer job at a middle school, Merrell was a student assistant who helped children with disabilities. Merrell completed a typing class in college. He participated in multiple preparation programs — some of which were stepping stones that led to opportunities for advancement, including the Sacramento City Unified School District Internship Program. All these opportunities helped Merrell to acquire skills he uses on his jobs.
Employment Application and Interviewing
Merrell learned about the legislative assistant intern job opening at the Legislature from an Internship Program instructor. For this position, Merrell completed a paper application with some technical assistance from the supervisors. Merrell had previously practiced "mock" interviewing during his Internship Program and other employment preparation programs. Previous interviewing opportunities that resulted in his being hired were also beneficial to honing this skill, including his summer jobs.
Soft Skills
Merrell described his greatest "soft skill" as being an outgoing person. "I am also courteous, a good communicator, and dependable." "I have a lot of motivation." "I am willing to overcome obstacles." Merrell understands that these attributes are important to achieving success.
Getting to Work
Merrell ensures he has reliable transportation to and from all three of his jobs. Merrell utilizes two different transportation methods — the bus and the train — to arrive at work on time.
Doing the Job / Supports and Services
Merrell does his job independently. If Merrell has a question about his job, "I work with my coworkers and my supervisors, who are very helpful."
Challenges
If Merrell experiences a challenge at work, he addresses this challenge by talking to his supervisor or other coworkers "to get a better understanding of it." Merrell reaches out for clarification.
Long-Term Goals
Merrell's long-term career goal is to be "successful". "I want a full-time job as a custodian. I already work as a temporary custodian at Sacramento City College. But, a requirement for a permanent position there is to have a driver's license. I do not have my license. So, I recently began getting services at the Department of Rehabilitation to help me with my goal."