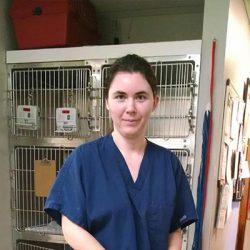 Position and Wage
At Mohnacky Animal Hospital, Nicole provides animal care services in three functions – as Veterinarian Assistant, Technician Assistant, and Kennel Assistant. Nicole feeds and walks the animals at the hospital. Nicole prepares the animals for surgeries, and after surgeries Nicole cares for and monitors their recovery, including those who are in critical condition. When the animals are ready to go home, Nicole brings them to their waiting owners for their reunion.
Nicole has worked at her job for eight months, as of February 2016. Receiving a competitive wage higher than minimum wage, Nicole works 40 hours per week, and sometimes more. Prior to this position, Nicole was employed at Shadalane Kennels.
When asked what Nicole likes most about her job, she responded – "I get paid to do what I am passionate about!" Nicole likes animals and people, so she knew she would enjoy this position and trusts the facility: "I also bring my own dog to this place and I love their service." Nicole learned of this job by signing up on the company's "job site". Nicole's mother learned of the vacant position during a "job search" and advised Nicole of the opening.
Acquiring Skills
Nicole attended MiraCosta College's veterinary assistance program, which was an important step to prepare for this position. Shadalane Kennels and San Luis Rey Equine Hospital – both facilities serving animals – provided Nicole on-the-job experience. Nicole relayed: "I worked my way up to a veterinary clinic." The employment services agency from which Nicole receives services was also instrumental in assisting Nicole.
Employment Application and Interviewing
Nicole completed an on-line application with her family's help. Nicole referenced and utilized notes that she had taken during consultations with her vocational specialist during the application process. Having participated in "mock" interviews at school and with her vocational specialist, Nicole then participated in the formal interview process for the position and was hired.
Soft Skills
Employers say being friendly, courteous, dependable, and punctual are some of many soft skills that are important to a successful job experience. Recognizing that there were certain soft skills she wanted to improve, Nicole sought out the help of her vocational specialist. Nicole improved her communication skills – speaking up and making eye contact – and now describes her greatest soft skills as "interviewing and speaking up!"
Getting to Work
Understanding reliable transportation is important to success, Nicole drives herself to and from work. She purchased her new car after four months of work.
Doing the Job/Supports and Services
Sometimes an experienced employee or a job coach provide assistance when needed. Nicole does not receive additional support and relayed: "We all work together!"
Challenges
Nicole reaches out for assistance when needed – "Sometimes I don't understand a client's request or question." When this occurs, Nicole's coworkers help her overcome challenges.
Long-Term Goals
Nicole's goal is to be a "vet tech." To achieve her goal, Nicole plans to return to college and then "work for years in the veterinary field".