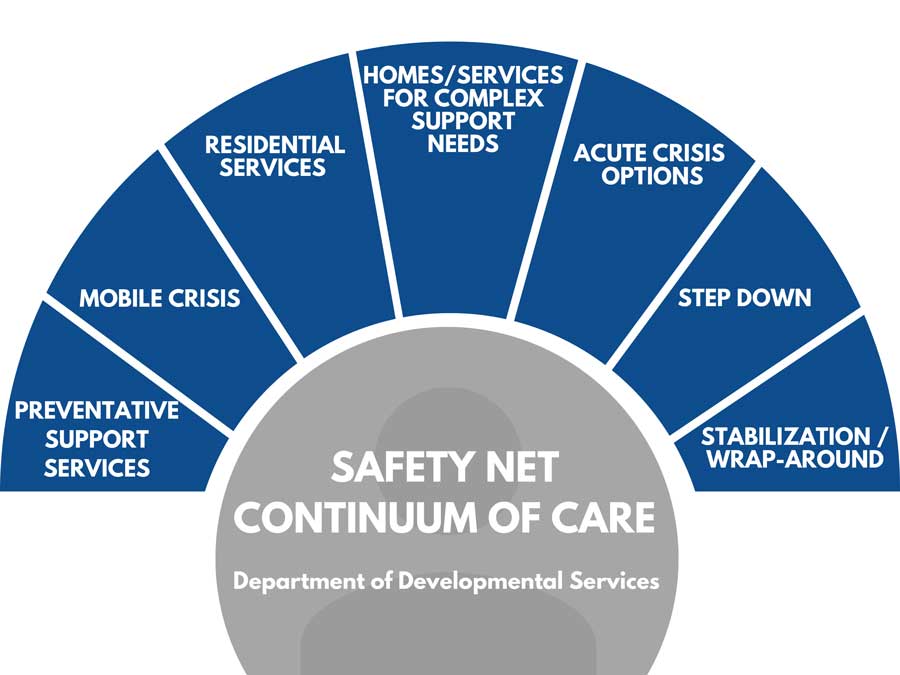 The Department is committed to strengthening and evolving its safety net services by providing a range of services and supports in the community to ensure individuals with co-occurring behavioral, mental health, and medical needs are identified in childhood and adolescence and that a range of safety net supports and specialized services are in place to provide a continuum of care throughout their lifespan.
The safety net system recognizes that consumers with co-occurring behavioral and mental health conditions often receive supports from multiple agencies, including mental health, special education, psychiatric, and mobile crisis services.
Characteristics of Services
Individuals will be able to access and move through the continuum of services in a fluid manner, receiving tailored, appropriate levels of intervention and support. In addition, individuals, families, professionals and direct support staff will be provided tools, skills, and interventions needed to quickly and effectively prevent, identify, and deescalate crises.
The Department will continue to engage with individuals, family members, regional centers, professionals, advocates, and other stakeholders to:
Identify strategies and potential models of services and supports,
Evaluate the effectiveness of existing models, and
Address the capacity of community safety net services and supports.
Fiscal Year 2022-2023
Plan for Crisis & Other Safety Net Services in the California Developmental Services System – January, 2023 PDF
Fiscal Year 2019-2020
Plan for Crisis & Other Safety Net Services in the California Developmental Services System – January, 2020 PDF
Fiscal Year 2017-2018
Plan for Crisis & Other Safety Net Services in the California Developmental Services System – May, 2017 PDF
Last modified: June 23, 2023