Goals & Responsibilities
The Ombudsperson assists regional center consumers and Self-Determination participants and their families to participate in the program.
Goals:
Increase the number of people in the Self-Determination Program (SDP)
Reduce the amount of time it takes to enter SDP
Recommend policy change at regional centers and DDS
Responsibilities:
Provides information to regional center clients and their families,
Facilitates solution to disagreements,
Investigates complaints regarding implementation of the program,
Recommends strategies for change to the department and the legislature, and
Compiles and reports data to the legislature.
The Ombudsperson cannot:
Decide disputes in favor of one party or another
Overturn a fair hearing decision or make a recommendation to a court
All information is confidential unless agreed to be released.
Your Ombudsperson
The Acting SDP Ombudsperson is Katie Hornberger.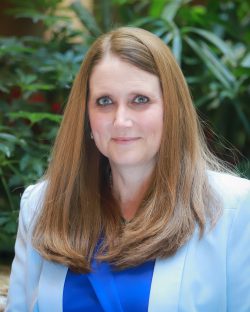 Katie Hornberger's career has been spent working with people with intellectual and developmental disabilities. Ms. Hornberger was an Early Intervention teacher working toddlers with speech and language delays. She also taught special education and did in home behavioral intervention for children with Autism. She was an Educational Consultant vendor for Frank D. Lanterman Regional Center before joining Disability Rights California (DRC) as a Clients' Rights Advocate in the Office of Clients' Rights Advocacy (OCRA). Ms. Hornberger served as the advocate assigned to North Los Angeles County and Harbor Regional Center clients before becoming a supervisor. She handled an assortment of matters including accessing regional center and educational services, pursuing public benefits and Adoption Assistance Program claims, and discrimination cases. Ms. Hornberger also provided community trainings on a variety of topics. In 2012, she became the Director of OCRA. In that role, she managed the program, conducted policy work, participated in committees, and continued to provide community trainings. Ms. Hornberger also manage the Work Incentives Program Assistance grant for three counties and the statewide Office of Payee Review and Beneficiary Assistance at DRC. Ms. Hornberger holds a B.A. in Sociology, cum laude, from the University of California at Irvine and a Juris Doctor from Pepperdine University School of Law.
Resources
Information will be added here when it becomes available.
Last modified: May 4, 2022